Cle de Peau Beauté CLARIFYING CLEANSING FOAM N
Product by:
MOUSSE NETTOYANTE CLARIFIANTE N
CLARIFYING CLEANSING FOAM N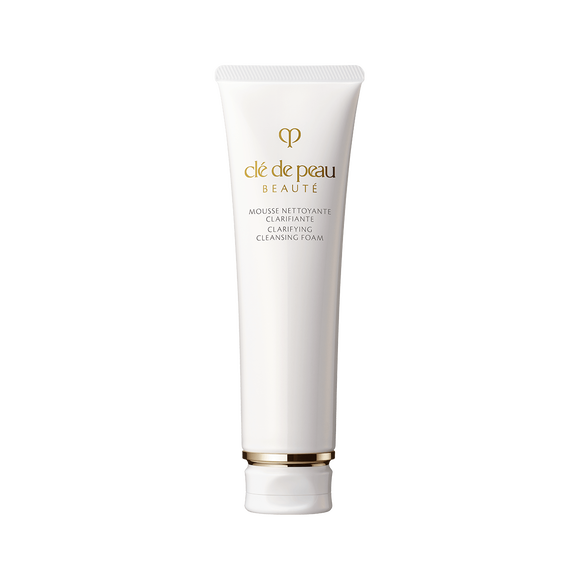 Enriched with amino acids and extra-gentle exfoliating beads. Cleanses by effectively removing impurities and excess sebum with a light foam. Leaves skin clear, bright and refined while feeling deeply nourished
Product description
A cleansing foam that gently wraps the skin with fine, high-quality foam containing naturally-derived scrub particles and amino acids, and cleanses the skin.
It removes only unnecessary stains while leaving the necessary moisture on the skin, leading to clear, bright and transparent skin one by one.
Clear type.
Features:
Fine and high-quality foam gently wraps the skin, removes even fine stains, and cleans the skin to make it clean and healthy.
Fine scrub particles of natural origin gently and cleanly remove dirt on the skin surface that causes dullness, leaving the skin bright and clear.
It removes fine particles (dust, dust, pollen, etc.) in the air and keeps the skin clean.
Each time you wash, it cleanly removes sebum and stickiness from the back of the pores, leading to beautiful, clear and transparent skin.
Makes the skin familiar with cosmetics that will be used later.
Technology and ingredients that bring together intelligence
Adopts Regililock technology, a unique technology that prepares the skin environment to be filled with moisture every time it is washed.
Contains skin illuminator (moisturizing / conditioning), a unique ingredient that focuses on "skin intelligence *". (Hydrolyzed silk, hydrolyzed conchiolin, theanine, touki extract, perilla extract, glycine, glycerin, PEG / PPG-14 / 7 dimethyl ether, trehalose)
* "Skin intelligence" means that everyone is born with , The key to maintaining a beautiful glow for the rest of your life.
Highly blended with amino acids for fresh and healthy skin **.
** Compared to before renewal
Uses intelligent cleansing technology, a unique technology that selectively removes dirt while protecting the moisture of the skin.
Maintains the natural moisture level and pH balance of the skin.
Focusing on the blessings of fruit trees that make the skin shine beautifully, it contains Clé de Peau Beauté intelligent food "Raspberry Extract" (skin protection).
The joy of responding to the skin
The soft and light foam brings a feeling of comfort, elegance and luxury every time it touches the skin.
A graceful scent full of pure tenderness, inspired by rare orchids and natural roses.
Product of Japan
Size: 140g
Description