ROHTO Skin Aqua Sunscreen Essence Green 80g
Product by: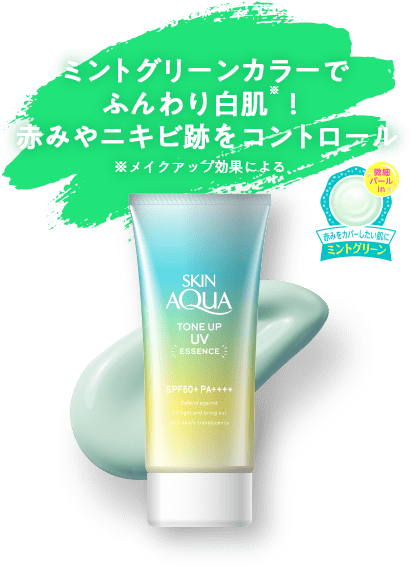 About Skin Aqua Tone Up UV Essence Mint Green
"Skin Aqua Tone Up UV Essence Mint Green" controls color and light while cutting UV rays to tone up the skin.
A mint green color sunscreen that brings out your own transparency.
It's easy to use and has a fresh feel.
After applying sunscreen, your usual bare skin becomes more transparent.
Transparency blue x reddish cover green = mint green color creates a natural transparency!
Contain ingredients that reflect sunlight and light to increase the transparency of the skin and give it a three-dimensional luster.
Contains sodium hyaluronate, vitamin C derivatives * 2, and pure nuance complex * 3 as skin care ingredients (moisturizing ingredients).
SPF50+/PA++++
The scent of sabon that makes your heart flutter. Also as a makeup base.
You can remove it with soap.
Paraben-free. Mineral oil free.
Allergy tested (not all people are allergic).
* 1: Synthetic fluorofrogobite, titanium oxide, tin oxide (brightening agent)
* 2: Ascorbyl phosphate Mg (moisturizing ingredient)
* 3: Kudamonotokeisou fruit extract, prune decomposition product, Izayoi rose extract (moisturizing ingredient)
UV protection ingredient : Ultraviolet absorber
Product of Japan
Description