ROHTO Skin Aqua Sunscreen Essence Rose 80g
Product by: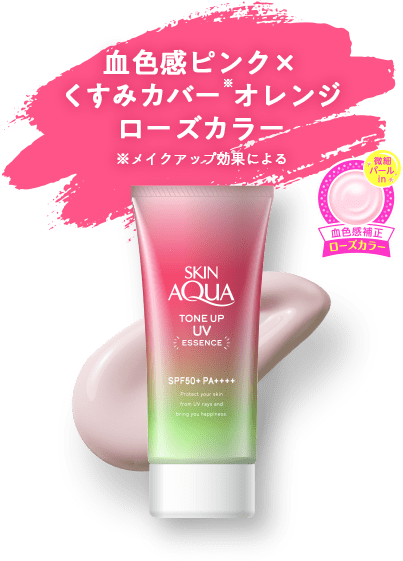 Skin Aqua Tone Up UV Essence Happiness Aura Rose Color
"Skin Aqua Tone Up UV Essence Happiness Aura" controls color and light while cutting UV rays to tone up the skin.
Rose-colored face and body sunscreen that brings out your own transparency.
It's easy to use and has a fresh feel.
After applying sunscreen, your usual bare skin becomes more transparent.
Ruddy pink x dull cover orange = rose color, creating a natural transparency!
Contains ingredients * 1 that reflect sunlight and light to increase the transparency of the skin and give it a three-dimensional luster.
Contains sodium hyaluronate, vitamin C derivatives * 2, and pure nuance complex * 3 as skin care ingredients (moisturizing ingredients).
SPF50 / PA.
The scent of happiness blossom that is full of happiness. Also as a makeup base.
You can remove it with soap.
Paraben-free. Mineral oil free.
Allergy tested (not all people are allergic).
* 1: Synthetic fluorofrogo pite, titanium oxide, tin oxide (brightening agent)
* 2: Ascorbyl phosphate Mg (moisturizing ingredient)
* 3: Kudamonotokeisou fruit extract, prune decomposition product, Izayoi rose extract (moisturizing ingredient)
UV protection ingredient : Ultraviolet absorber
★ Brand name: Skin Aqua Tone Up UV Essence
Product of Japan
Description